Helen Pournara, founder of Third Thursday
Helen Pournara hails from a citrus farm in the Eastern Cape, studied at UCT and has lived most of her adult life in Johannesburg.  She is married and has two children.  She is a chartered accountant and runs her own accounting practice from home.
Helen, founder of Third Thursday, shares her motivation for starting the group.  "I wanted to do something outside my role as wife, mother, employee, that would add a dimension that I felt was missing." This desire expressed itself in inviting like-minded women to meet every third Thursday of the month, with the purpose of using their networks and resources to help those less fortunate … and so Third Thursday was born.  
Third Thursday celebrated its 10th birthday in 2014, and its composition has remained quite constant since its inception.  "Obviously I am proud of what we have been able to achieve, but humbled is perhaps the best description of how I feel.  10 suburban ladies have stuck with this initiative, formed meaningful relationships with each other and made a significant difference in the lives of many, many people," says Helen.  
Helen's vision is for the Third Thursday model to be replicated by others, so that groups of people can reach out to meet the many needs in South Africa – two groups have been inspired to start an initiative of their own, and she hopes the trend continues.  "It is also my dream for Third Thursday to stay in contact with the people that we help, and to continue the hands-on approach."
"A few years ago, we agreed that our core values would be humility, grace and compromise, and this has helped us in working together as a group.  We are all committed to making a difference in South Africa, and deep friendships have formed within our group.  We know one another's strengths and we allow everyone to contribute how much or how little they are able to at each meeting and for each event."
Amy Quiding
Amy has been a member of Third Thursday since 2006.  "It has been a very special part of my life – both in the friendships that have been made and in the work that has been done to make a difference in other's lives." 
"I have also learnt a lot about myself over the years through this group.  I have loved watching the ladies kick into action as our events draw near and the work load increases.  Each one has brought her own special gifting to the group" says Amy.  
Amy's sister has more recently started a group similar to Third Thursday in Somerset West and Amy has been able to mentor her as that group, called Soul Circle, has developed its own identity and effectiveness.
"As a member of Third Thursday, it has been very humbling to work with so many of the people involved in the organsations we have associated with"  Mthimkhulu Stimulation Centre for the Disabled is an example. The Caregivers love the children so much and work so hard for the children's benefit – it's inspiring!
"I love our core values: compromise, grace and humility!  I can't wait for the next 10 years together!"
Kim Forbes
Kim Forbes found her niche in education at the start of her career.  She has since morphed to writing and still loves the way words work and can be used to encourage others and facilitate change.  
"I have been a member of Third Thursday since its inception … and was a reluctant recruit. I envisaged a lot of women doing smocking and me losing precious time where I could be marking English essays!
"It is more than a decade on, and there has been no smocking … just friendship, caring, growth and sharing of hope and vision for South Africa partnering with amazing people who are doing the 'real work'.  To those who feel despondent about our country, I say, 'Get going, do something, create your own hope and positive energy.'"
Third Thursday has been privileged to host outstanding speakers – Gill Marcus, Helen Zille, Deshun Deysel, Deborah Patta, Ian von Memerty, Shireen Chengadu, Monica Shaller, Stacey Brewer – who have given of their time without cost because they captured the vision of what Third Thursday was doing … and wanted to support us.  "We have been entrusted with so much good faith and support, so we cannot lightly take the opportunity to make a difference in this country – and every South African can do the same!"
Belinda Goddard
Belinda is a woman, a daughter, a wife and a mother. She has worked in the corporate educational development space since 2000. "I have discovered that I have a passion for being part of educational projects that grow and develop people and contribute towards the sustainable transformation of our country."
Belinda also has a love for travelling and experiencing new and different cultures. "I love being a foreigner, road tripping and building meaningful relationships with people along the way."
"Being part of Third Thursday allows me to work with other strong women who share a common goal to make a sustainable difference in people's lives, often navigating unknown territory and breaking new ground along the way."
"As South Africans I think we are often overwhelmed by how much needs to be done, and maybe feel inadequate to address the issues, but being a part of Third Thursday has allowed me to find a voice and meaning in my action; no matter how big or small our contribution, we are changing people's lives and contributing towards the transformation within a sustainable society."
Belinda believes that transformation is often used as a tickbox exercise. "What I appreciate about Third Thursday's vision is our recognition that by making a big difference to a few people's lives, we are contributing towards a gradual change and transformation within South Africa. Hopefully, we are inspiring other women, children, families across South Africa to come together and build sustainable, transformed communities around themselves."
Giselle Willcox
Giselle Willcox is marketer, award-winning writer, author of two books – and single mom of three kids. It's a toss-up over which is harder to produce: a book or a child. The bonus about a book? It cannot argue back. J On the work front, my passion is joining the dots between business strategy and all elements of communications. On the personal front, it's to connect deeply with people.
For Giselle, Third Thursday keeps her connected to making a difference – and to herself and the person she wants to be. She is also inspired by the women of Third Thursday themselves! They are fabulous, she says.
To women who may wish make a difference, Giselle has words of encouragement:  "No matter the smallest of contributions you might end up making.  Women are busy.  They are raising children, making homes, building careers … so, when I take a step back and look at what Third Thursday has accomplished, I realise that whatever a woman can do to make a difference, she really, really should.  Had we not started Third Thursday, we would have accomplished nothing."
Giselle encourages her children to get involved.  "If they can cover a book, clean a classroom or paint a jungle gym, I believe that they, as human beings, should help." Currently, Giselle's daughters are growing their hair to donate to survivors of cancer.  "I am proud that my youngest daughter has traded in looking like a mermaid for a chance to make another little girl feel pretty despite feeling so ill."
Giselle's favourite Third Thursday event was the one held in support of Big Shoes with Gill Marcus, the Reserve Bank Governor at the time, as the guest speaker. "What excited me was the calibre of speaker we drew – the evening was topical in terms of content and men were also invited as guests, a departure from the usual ladies' breakfasts."  This event supported palliative care for HIV/Aids infected children and the organisation – Big Shoes – lent itself to creativity.  Shoe-inspired artwork was donated by Shapiro, and guests were encouraged both to wear fabulous shoes and also to donate a pair for a child in need.
Giselle would love to have Trevor Noah as guest speaker at a future event. "Humour and truth make for a powerful combination and it would be a sell-out event, of great benefit to whomever we support.  Thuli Mandonsela would also be a fabulous drawcard, especially for women who could be inspired by an empowered and powerful woman such as her! "
Jane Codrington
Jane is British-born but was raised in JHB and would call herself South African.  She has been married to Graeme for nearly 25 years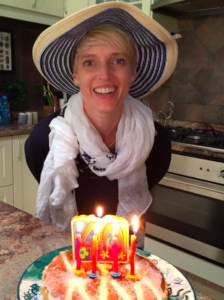 and they have three daughters.  Jane's training is in Corporate Education and Theology but during the four year period she and her family lived London, Jane felt called back to South Africa and so in  preparation, studied a Social Development Course through UNISA. Jane currently fulfils the role of Campus Pastor for a satellite of Gracepoint, a Methodist Church based in Midrand. Jane's hopes for South Africa are access to decent education for every child, and that justice will triumph. "I want to see our democracy settling and a functional, free society realised in my lifetime."
Jane loves being a part of Third Thursday as it gives practical expression to so many of her life goals.  "My personal motto is 'blessed to be a blessing'.  I am aware daily, living in South Africa, that my world is blessed.  I am reminded of the starfish principle – even the smallest effort makes a difference to somebody.  The women of Third Thursday are connected to diverse networks and this makes it possible to impact many."
According to Jane, being a part of Third Thursday is a very practical and easy way to give back.  "It's almost the least we can do from our place of privilege," she says.  "Third Thursday plays a small but significant role in the transformation of South Africa, and can be a model for others."
The deep friendships within Third Thursday are a by-product.  "The connections and camaraderie, both within the group and with other stakeholders, especially outside my comfort zone, brings a more compassionate approach to life. Working in a team brings patience, humility and grace."
It is these values that inform Third Thursday's choice of projects with whom to partner.  "Others can help us achieve our goals by being aware and buying into the vision."
Lisa Grobbelaar
Following her graduation from the University of Port Elizabeth with a BCom, Lisa spent over 20 years working as a Management Consultant and Information Technology professional. Today, Lisa focuses on foundation development and charitable contributions across various organisations that impact education, healthcare and community development.  She also spends as much time as possible with her husband and two young daughters.
"I've found being part of TT very fulfilling indeed. It gives me a specific outlet to give back to others less fortunate than myself.  A major advantage of TT is that every Rand raised goes directly to the targeted charity as we don't take an administration fee for the work that we do which makes all our hard work rewarding indeed. 
"Events where Third Thursday targeted education are deeply significant to me: starting the LEAP Maths and Science school in Alexandra and establishing the Reading Eggs Programme at Iphutheng Primary School in Alexandra. The young people benefiting from these initiatives are definitely getting an advantageous start to their life. 
"My great grandparents and grandparents were born in China and immigrated to South Africa for a better life. Sadly, this better life in Port Elizabeth during the apartheid era was not to be.  My parents insisted that my brothers and I "Get an education, because education is power to set you free" … free from poverty in our case.  My brother and I were the first generation to get a university degree and I have certainly experienced the benefit of an education.
"A number of the ladies have become firm friends over the years.  We have a variety of skills that complement each other and collectively our skills are used to maximise the benefits for the different charities that we target. Most of our monthly meetings are full of fun. We get to chill and be ourselves with a lot of hilarious moments in interspersed with real work!
For each one of us, working with Third Thursday is on a part-time basis. So becoming bigger is not necessarily achievable unless some of us can dedicate more hours.  What is achievable is to work smarter, maybe outsourcing some of our work. Another plausible growth area is to get a number of Third Thursday groups operational, each having a more specific focus, for example, health and education.
Nikki Weidemann
Regan Berry
Regan is a mom of three, a Social Worker in private practice, an Executive and Life Coach. She loves learning and growing – reading is a deep passion.  
"I love being part of Third Thursday, where a group of like-minded ladies get together every month to share delicious meals and use their various skills and talents to make a difference in a number of different spaces, including education, housing, and special care.
"I have been involved in coaching the Headmaster of Iphutheng Primary School since 2012. Seeing the numerous challenges and obstacles teachers and leaders in township schools are still faced with on a daily basis, I have committed myself to building relationships with staff and working alongside these teachers to try to redress the imbalance still so prevalent in our education system. "
Regan would love to see others involved at Iphutheng.  "You can give time, share skills or donate money to the school." Regan runs teacher training sessions at Iphutheng – computer training, leadership and skills development, and coaching the school management team and staff. An annual Mandela Day Project is a huge event that draws in over 400 participants – activities usually take the form of upgrading facilities.
"There is a huge need and so much opportunity to get involved – after school care and teaching, reading to learners, writing letters to learners … all do-able!"
Yvonne De Souza
Yvonne has a passion for Africa, its people and its development.  "I believe in translating this energy into tangible and effective initiatives. I am convinced that corporate Africa has a significant
role to play in the development of leaders that will drive economic transformation; therefore, my role as an avid intrapreneur is constantly to look at how organisations and people can impact their communities while getting return on their effort and investment."
Yvonne says she loves the simple things in life. "I live my life. I love my life.  I am driven by what I am passionate about. I try to see things differently"
In terms of giving back, Yvonne believes in a hand-up rather than a hand-out.  
"My first experience of this was in my early years when I worked at grass roots level for an NGO in rural Zimbabwe. This is where I truly understood that a hand-up is empowering people by giving them dignity and giving them access to enablers that will drive (hopefully) sustainable change to their situation. A hand-out is a short-term measure that addresses an urgent need but it doesn't drive any change – it only provides immediate relief. I have learned that there is a place for both of these in our societies: a hand-out is used in relief situations such as natural disasters or a house burning down, and a hand-up is used in sustainable development initiatives that drive long-term change.